Hewlett-Packard
HP Touch Monitor L6015tm / L6017tm

Einzelhandels Touch-Monitore, konzipiert für erhöhte Benutzerfreundlichkeit, Langlebigkeit und eine modernisierte Erscheinung, die sich nahtlos in Ihre Umgebung integriert.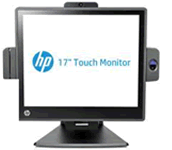 The sleek and stylish HP L6015tm 15-inch and L6017tm 17-inch Retail Touch Monitors are designed for increased performance, enhanced usability, and outstanding durability in retail environments. Both monitors feature multi-touch Projected Capacitive touch technology for a familiar, intuitive experience similar to smartphone and tablet devices.
Retail-ready
The modernized appearance and sleek design add a wow factor to your retail environment. The chemically strengthened, flushglass design is both stylish and easy to clean. White LED industrial panels offer improved brightness, extended product life, and energy efficiency. Anti-glare screens help make content and graphics easier to read in ambient light. The sturdy design withstands environments up to 40° C and areas with low air circulation. The standard aspect ratio screens are compatible with the vast majority of retail applications and are ideal for use in small spaces. The On-Screen Display lockout function helps prevent accidental adjustment of display settings by associates or customers.
Flexible design
Industry-standard, 100-mm VESA patterns enable flexible mounting in a variety of retail settings. An optional stand is also available for additional user adjustability and flexibility.
Technology that grows with you
DisplayPort, DVI, and VGA video inputs enable legacy and future video technology compatibility; integrated speakers eliminate the need for separate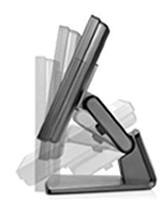 hardware. Four mounting ports on each side of the bezel accept integration of an HP Magnetic Stripe Reader, Biometric Fingerprint Reader, and Webcam to enhance functionality and maximize counter space.
Designed with the environment in mind
Both monitors are ENERGY STAR®-qualified and registered as EPEAT® Gold to help reduce your impact on the environment and lower operating costs. Industry-leading warranty and support The monitors are backed by a three-year limited warranty that includes Advanced Exchange.
Datenblatt HP Touch Monitor L6015tm / L6017tm

[325 KB]
zurück